Upscale Pigs in a Blanket with a Dip with a Kick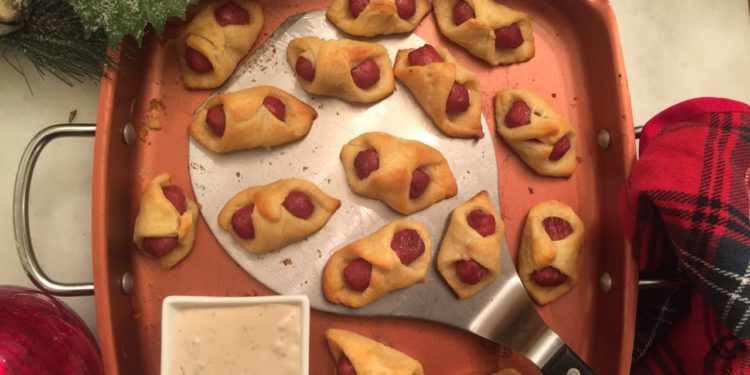 Pigs in a Blanket is a Holiday Tradition everyone loves!
They are the first appetizer to disappear when they come out of the oven!
This is our "Twist on Tradition"–on how to wrap the sausage plus adding a dip!
Upscale Pigs in a Blanket with a Dip with a Kick
Ingredients
Ingredients
Pillsbury Crescent Dinner Rolls
Small package of beef little smokies
Raspberry Preserves, we used Bonnie Maman
Chipotle Hot Sauce, we used Cholula
Ranch Dressing
Lawry's Seasoned Pepper
Step 1: Unroll the dough from the can and make a big square by pressing the triangles together.
Step 2: Cut the square into little squares, about 2 inches by 2 inches. Then lay the little smokie diagonal in the square and wrap where the tips meet each other.
Step 3: Cook at 375 degrees for 9-12 minutes, until golden brown.
Step 4: While they are cooking, make the dip. Use 12 oz. of ranch dressing. Add in 2T. Raspberry preserves and stir. Taste, if you want it sweeter, add more. Then add 1 tsp. Chiptole Hot Sauce. Taste, if you want it hotter, add more. Last, sprinkle in the seasoned pepper and stir-about1/2-1 tsp.
Step 5:Now, take up the pigs in a blanket, put on a serving platter and sit the dip close to dip them in for added flavor with a Kick.
Simply Delicicous...Hampton's Style!