Summer in the Hamptons – just the words sound exciting! Being on the beach with a glass of rose and lobster roll in hand….there is nothing better.
The food and wine culture in the Hamptons is seriously amazing! From the happening restaurant scene to world class wineries and the fresh seafood, it is the "Napa of the North" with ocean and glamour.
Ashley's Sag Harbor Chic home, in the heart of the Hamptons, is our home base for stylish entertaining, wine tasting and cooking Hamptons-inspired recipes with a twist!
We are two Texas women exploring the food and wine scene from Sag Harbor to East Hampton and beyond. Join us as we experience hidden Hamptons secrets to pop up restaurants and top notch local wineries.
Follow us to see "What's Happening in the Hamptons" and please every palate with our farm + sea + vineyard to table inspired fashionable food and wine. Through our blog we will bring you delicious recipes, restaurants and the right wine with the glamour of the Hamptons to your table.
Welcome to the Delicious Hamptons.
About The Two Texas Girls….. And how they wound up in the Hamptons!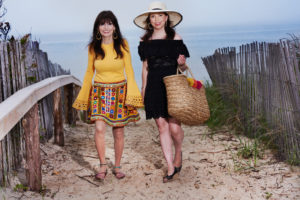 When Ashley moved to New York 10 years ago, they had to take a trip to see the Hamptons….. and were hooked for life! Ashley and Brenda were instantly captivated by the chic glamour of the Hamptons from the sea to the farms and vineyards and were delighted to learn there is an amazing food and wine culture to match!
Their mother & daughter trips were always centered around their passions which included restaurants, wineries and cooking lessons from Paris to Italy, South America and beyond! Cooking and entertaining have always been a central part of their lives.
Ashley
Ashley has a family home in the heart of the Hamptons in Sag Harbor, NY that she shares with her husband, 2 year old son (who also loves to cook!) and what her husband refers to as a "permanent house guest"….her mother. After graduating SMU in Dallas, Ashley moved to DC and worked at the White House as scheduler to President George W. Bush. Ashley moved to New York City 10 years ago to work for Rudy Giuliani and fell in love with New York City where she lived above an Italian restaurant in Little Italy. Who can resist all that pasta and wine?! In New York, she has had a career in business communications consulting working for both McKinsey & Co. and Accenture over the last 9 years. She currently lives between Tribeca and Sag Harbor.
Brenda
Brenda comes from five generations of Texas farmers and grew up cooking in a farmhouse kitchen with her grandmother and Brenda still owns that same Texas farm today. She lived farm-to-table before it was chic! Brenda and her mother put their country living best on paper and authored the 1985 book "Country Quotes" which was sold in Hallmark stores across the South. She taught cooking classes around the state of Texas in collaboration with an Italian chef through HEB grocery stores. Brenda has always had a flair for entertaining and is known for her big over-the -top parties that almost match her Texas hair and jewelry. She has put these skills to great use for many Houston charities including the Jr. League, Heart Ball and most recently as Gala co-chairman of Jeans and Jewels! Brenda loves to cook and eat desserts and is especially known for her "Texas-size" triple chocolate cake! She currently lives between Houston and the Hamptons.