Spice Up your Christmas with Spiced Oatmeal Cookies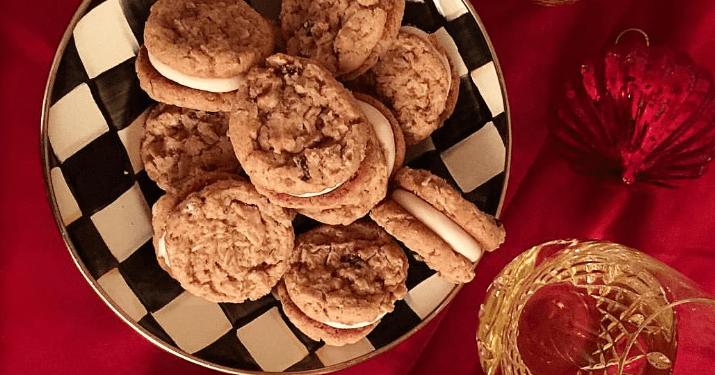 Oatmeal cookies are always a great favorite to serve all year.
This is my grandmother's Oatmeal Cookie recipe and I love making it to remember her.
At Christmas, I like a "twist" on the traditional cookies by adding holiday spices and then making them into sandwich cookies.
This makes them into a Delicious Christmas Cookie that is simple and easy to make!
Spice Up your Christmas with Spiced Oatmeal Cookies
Ingredients
2 eggs
1 c. sugar
1 cup dark brown sugar, packed firmly
1 cup Crisco
1 tsp. vanilla
1 1/2 c. flour
1 t. baking soda
1/2 t. salt
1/4 tsp. nutmeg
1/4 tsp. ground cinnamon
3 cups oatmeal
Step 1: Cream the sugars and Crisco together. Then add the egg and vanilla and beat.
Step 2: Then add in the flour, baking soda, salt, and spices gradually, a little at a time. Beat till mixed.
Step 3: Now, by hand, stir in the oatmeal. Shape into 3 long rolls on wax paper and refrigerate for 1-2 hours.
Step 4: While this is in refrigerator, make the filling to go between the cookies.
Filling:1/2 c. Crisco, 1/2 c. butter, softened, 4 c. confectioner's sugar,1/4 t. salt. 1 1/2 tsp. vanilla--Beat the first 2 ingredients and then gradually add the conf. sugar. last, add salt and then beat in vanilla. Put in a quart zip lock bag and cut off corner to pipe onto the cookies.
Step 5: Slice 1/2 inch slice and put on ungreased cookie sheet. Bake at 325 for 10-12 minutes. Check and bake until slightly golden brown and crisp on edges.
Cool before putting the filling in and making the cookie sandwiches.
Note: to make the filling with a flavor, substitute McCormick Hazelnut flavor for the vanilla
Simply Delicious...Hampton's Style