Hampton's Herb Goat Cheese Bruschetta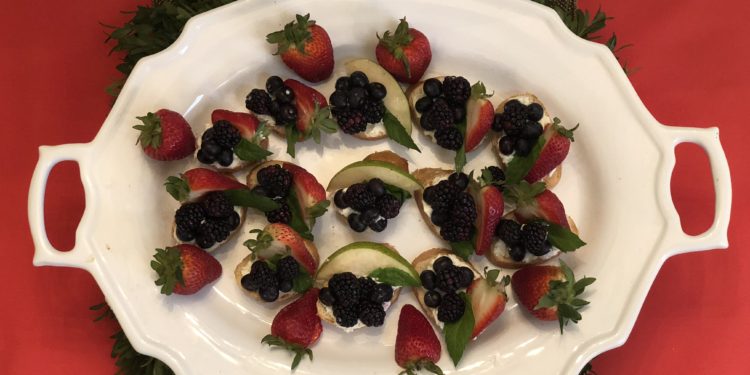 These delicious bruschetta's are an easy and pretty appetizer that is great for any occasion.

Hampton's Herb Goat Cheese Bruschetta
Ingredients
1 French Baguette, cut Into half inch slices
4oz herb plus garlic goat cheese
4oz cream cheese
1/2 tablespoon of honey
assorted fruit- blueberries, blackberries, strawberries & pear
mint leaves
Steps
1. Mix the goat cheese and cream cheese together
2. Add in honey
3. on a baking sheet put the bread slices and bake for 10 minutes until toasted
4. now remove bread from oven.
5. to assemble the bruschetta top each piece of bread with 1/2 tablespoon of the goat cheese mixture
6. then top with the berries and slices of pear on some of them
7. last add a mint leaf
8. Now put on a beautiful serving platter and serve to your guest
Simply Delicious... Hampton's Style!