Vanilla Sugar Cookies with Pink Coconut Icing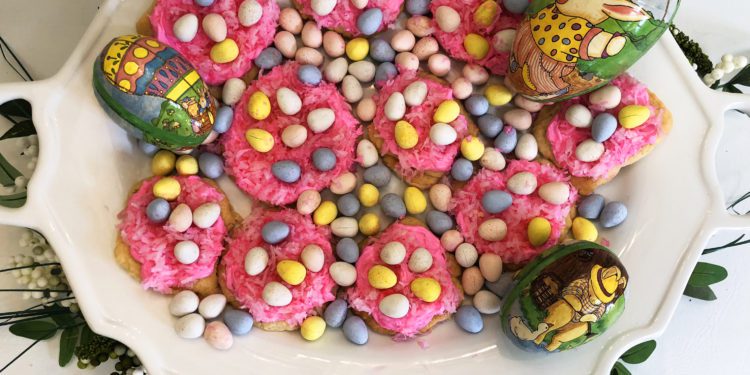 These delcious sugar cookies were my favorite cookies that my mother would make for us! They were delicious and pretty!
Vanilla Sugar Cookies
Ingredients
Ingredients
3 eggs
11/4 cup sugar
1 c. crisco
3 cups flour
1 t. baking powder
1/4 tsp. salt
1/2 tsp. vanilla
1 tsp. almond flavoring
Icing: 1 can Duncan Hines Classic Vanilla icing, 1 bag Baker's coconut, Wilton Rose Gel coloring, Cadbury small Easter eggs
Steps:
1. Cream the crisco and sugar together. Add the eggs, one by one, and mix.
2. Stir together the flour, baking powder, and salt. Gradually add in the dry ingreients, beating after each addition.
3. Then add the vanilla and almond flavoring. Mix well and pour the dough out on wax paper.
4. Roll in long 2 1/2 inch wide roll of dough and refrigerate for 1 hour. Then it is ready to cut into 1/2 inch wide cuts and cook.
5. Bake for 12-15 minutes at 375 degrees or slightly brown. Do not overcook. Let cool.
6. Take the icing and add a drop at a time of wilton rose gel to get the right color of pink. Then do the same with the coconut to color it pink. Now mix the two together and you are ready to ice the cookies.Now top with Cadbury eggs to give it an Easter touch! Serve on a beautiful platter.
Simply Delicious...Hampton's Style!