Delicious Lobster Dip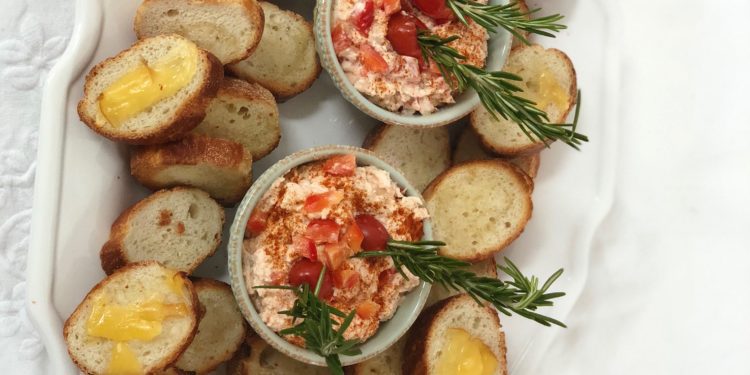 This simple and easy lobster dip is great on toasted French baguettes.
We made double the recipe–it goes fast!
Delicious Lobster Dip
Ingredients
1 can of lobster meat, drained and flaked or fresh lobster--about 8 oz.
1 tsp. lemon juice
6 oz. cream cheese, softened
2-3 T. of butter, we like Land of Lakes
1 T. horseradish
paprika--to taste and for color
dash of sea salt
dash of cayenne pepper
1/4 cup finely chopped red pepper
rosemary spring and cherry tomatoes to garnish
1/8 cup chopped red pepper
French baquette
1. In a mixing bowl, combine the first 5 ingredients and mix by hand until it is creamy.
2. Then, add in the next 4 ingredients and stir to mix.
3. Now, put in two small serving bowls, top with a little chopped red pepper and sprinkle a little more paprika. Then put the rosemary spring with 2 cherry tomatoes on the end of it into the center of the dip for a garnish.
4.Next, put on a platter in two small serving bowls and add sliced French baquettes with butter that have been toasted.
Simply Delicious...Hampton's Style!