Rose Crawl moves to Sag Harbor :Week Two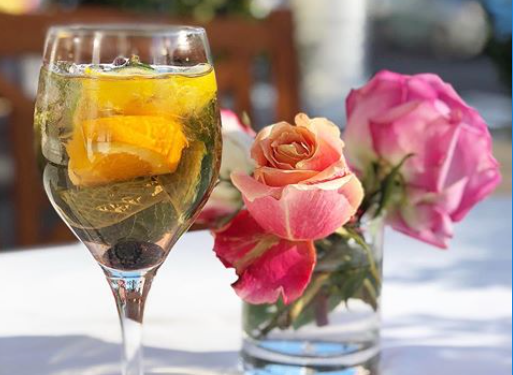 Sag Harbor is full of Amazing and Exciting Restaurants with great Rose Wine. We start our second weekend of the Rose crawl with Friday, Saturday and Sunday nights at different restaurants in this fun town.
Our first stop on Friday night is at the American Hotel on Main Street . This Hotel has an elegant restaurant with 17,000 wines the wine list is better than 85 pages long, and there are more than 30,000 bottles beneath the floorboards in the barroom. The Wines spectator has bestowed its Grand Award on the cellar for decades. This hotel is one of only 87 restaurants worldwide to receive this honor. The bar will customize Rose cocktails with fabulous Rose wines and use their  secret cocktail recipe to surprise you.
Saturday night we have reservations at Wolffer Kitchen Sag Harbor. This sleek spot is a restaurant that sources local food and makes American and Mediterranean dishes paired with Wolffer Estate wines. Tonight we are savoring the newly released Finca Wolffer Rose 2017 it is made from hand-harvested grapes sourced from their 85 hectare Argentine Estate. This beautiful Rose Wine has Wolffer's signature style and is a perfect companion for fine meals. This Rose wine has the style, sophistication, and spirit of summer in The Hampton's. The bar in this restaurant is very edgy with beautiful and huge lighting that hangs above the bar.
Ending our Rose crawl weekend, we go to Page at 63 Main on Sunday night. This restaurant serves locally inspired New American fare. The bright, coastal-chic quarters are beautiful and also have an outdoor sitting area. They use ingredients from local farms and fisheries to bring a true Hampton's experience right to your table (or barstool). The Rose wine they serve by the glass at this restaurant Billette, Cotes De Provence. It is wonderful to drink as a Rose wine or they will create a Rose cocktail that is amazing. They have a long list of other Rose wines by the bottle including "Whispering Angels" and other French Rose Wine's. This is a fun place to enjoy your Rose crawl experience.
This ends our second weekend of our Rose Crawl!
Simply Delicious… Hampton's Style!